Residency
Research residency within the framework of Making a Difference and in collaboration with TanzZeit e.V./Tanzkomplizen between June and December 2022.
Whether in mythological sagas or in Marvel's film universe, heroes are usually shown as brave men who hear an inner call and follow it. But what about all the brave heroines? How are they portrayed? Who is still a hero, a heroine, these days? And what if the heroine has a disability? Is she glorified as a heroine just because of her disability?
Based on these questions, Camilla Pölzer explores heroes, heroines with disabilities, and the dramaturgy of the hero's journey to pursue the research question of what being a heroine means to her, as a woman with a disability. For her research, she invited mentors Paulina Jürges, Carolin Hartmann and Angela Alves. They shared their working methods, translated the dramaturgy of Joseph Campbell's hero's journey into movement and practised falling and getting up again.
Based on her artistic research during the residency, Camilla creates her first production as artistic director: I NEED A HERO.
Co-production: I NEED A HERO
Premiere on February 22, 2023
In her first dance piece for young audiences, Camilla Pölzer undertakes her own personal heroine's journey. With humorous exaggeration, joy of movement and a flowing cape, she and her performance partner Camilla Przystawski explore what it means for her as a woman with a disability to be a heroine and to face societal expectations.
She fights her way through the canon of virtues of true heroines and sets out to develop her superpower. She falls, gets back up, discovers unexpected abilities and begins to rethink the term "heroine". Because maybe it is actually the conscious handling of our own fears and limits that really turns us into heroines.
The piece invites all people from the age of 9 with and without disabilities to discover what a hero can be and how much of a heroine they are!
Concept, choreography, performance: Camilla Pölzer Choreography, performance: Camilla Przystawski Co-choreography: Paulina Jürges, Johanna Jörns Music: Jana Sotzko Projection, Video: Declan Hurley Costume Design: Carlo Zeit Set Design: Pauline Heitmann Light Design: Martin Pilz Dramaturgical advice: Amelie Mallmann, Lisa Sziedat Production management: Agnieszka Habraschka, Lisa Sziedat Production assistance, Outside Eye: Lea Svenja Dietrich Tactile tour, audio description: Silja Korn, Emmilou Rößling Mediation: Amelie Mallmann, Kira Shmyreva Camera videodocumentation + trailer: Mayra Wallraff, Lucie Westbrock Postproduction videodocumentation + trailer: Nora Wetzel
A production by Camilla Pölzer, supported by the Making a Difference network in cooperation with TANZKOMPLIZEN. Funded by the Senate Department for Culture and Europe / Einstiegsförderung.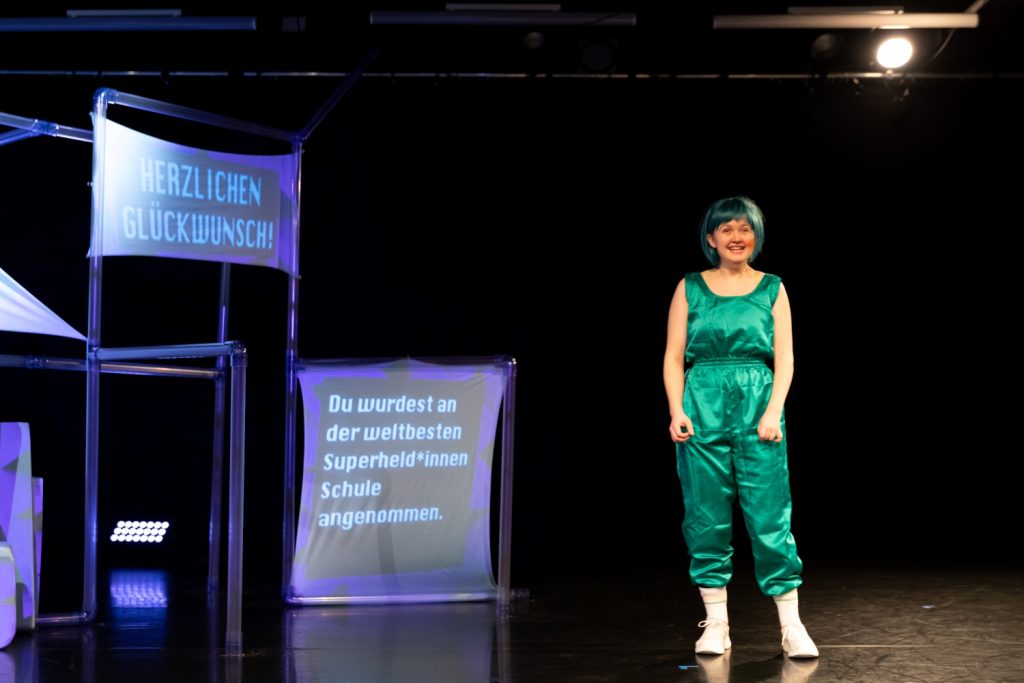 Photos © Mayra Wallraff | www.mayrawallraff.de
Title photo © René Löffler